VIDEO: You can knack a married man but don't ever fall in love with him – Social media influencer, Blessing CEO advices ladies
Nigerian relationship and mental therapist, Blessing CEO took to social media just a few minutes ago to share an opinion on dating a married man……..   READ FULL ARTICLE
ATTENTION: For The Best In Tech News Visit
Appgon
Taking to her official Instagram handle, Blessing CEO explained that sleeping with a married man is different from falling in love with a married man. Blessing CEO shared a video of herself explaining the disadvantages of falling in love with a married man.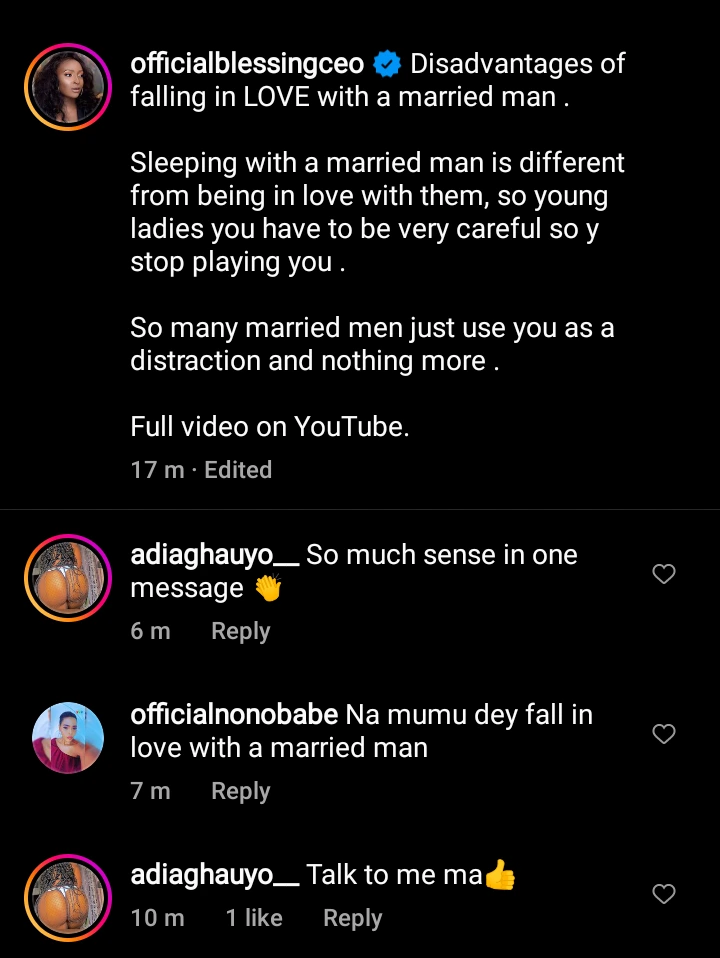 According to Blessing CEO, when a young girl falls in love with a married man, she will end up being used by the married man because the man already has a primary responsibility which is his wife.
Blessing CEO further explained that the married man will only use the young lady as a distraction.
Blessing CEO advised young ladies to avoid sleeping or falling in love with married men because it will lead to no good.
You will recall that Blessing CEO is a Nigerian relationship and mental therapist whose words of advice and instructions have greatly helped in rebuilding broken relationships.